Chamber music
Compositions for solo instruments and/or small ensembles written and arranged by Stefan Pelzl, see CD Cham Chameii.
Stefan Pelzl ´s JUJU
Stefan Pelzl´s JUJU is one of Austria's most constant and creative Jazz ensembles. Shortly after its foundation in 1988, the group won the "2nd Lower Austria Jazz Contest". In these early days, JUJU was influenced by John Coltrane, Wayne Shorter and Yusef Lateef, but – once out of these footprints- was very soon able to create a very original style in composing and performing as well. Four albums were recorded and prove for an outstanding musical development.  
Virtually retaining the same core of the group, numerous top-musicians could be engaged for specific projects, including Leo Wright, Idris Muhammad, Ingrid Jensen, Lorenz Raab, Franz Hautzinger, Thomas Gansch and others. The group plays only original compositions, mainly by the leader. JUJU have recorded four albums.
Stefan Pelzl´s JUJU performs as a quartet as well as a quintet with one additional horn player on trombone or trumpet. The actual line-up is:
Andy Bartosh: guitar                               Karl Sayer: double bass                         Klaus Goehr: drums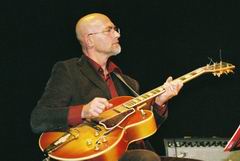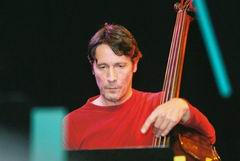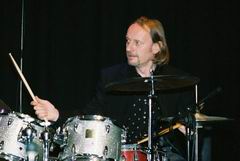 Alois Eberl: trombone                               Stefan Pelzl: alto sax, flute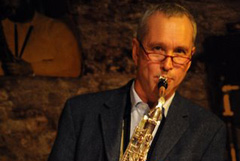 Photos: Cornelia Kaufmann
JazzMED
was founded by Thomas Pfleger, Stefan Pelzl and Robert Schoenherr. This ensemble plays exclusively charity -concerts in favour of different organisations who provide free medical support to the poorest people all over the world. The three leaders,  Thomas Pfleger on  guitar, Stefan Pelzl on saxophone and flute, and Robert Schoenherr on piano are also responsable for the compositions and arrangements, mainly Latin – Jazz and "funky stuff" . Karl Sayer on bass, Endre Hoffmann on drums and a second horn player (Bertl Mayer on harmonica or Alexander Wladigeroff on trumpet) as well as  special guest  Jacqueline Patricio, voice, complete the band who has a very fresh and original sound.
Stefan Pelzl Quartet
Beside Stefan Pelzl on saxophone and flute, there are Michael Kneihs on piano, Stefan Thaler on bass and Werner Mras on drums. The group offers several different programs: "Poetry In Jazz" contains only original compositions, "Great American Songbook" is the more "commercial" sample of well known "standards", while "Tribute To Paul Desmond" is a hommage to this great alto – player.
John Nittnaus Band
Stefan Pelzl is a member of the" John Nittnaus Band", together with John Nittnaus piano, Bernie Beibl guitar, Stefan Thaler bass and Andy Nittnaus drums.